This new indie music show features our video for Waste our Time, with cute pop up fun facts! Also our friends
A Place To Bury Strangers
are interviewed and play two ripping songs. Totally worth 30 mins of your time. ♥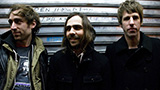 NYCmedia - The B-Sides: NYC Sessions: A Place to Bury Strangers
a002-vod.nyc.gov
A New York–based noise rock band composed of Oliver Ackermann (guitar/vocals), Dion Lunadon (bass guitar) and Robi Gonzalez (drums). The band plays a heavy, atmospheric wall of sound-influenced blend of psychedelic rock, shoegaze and space rock. If purgatory were an airport, APTBS' Oliver Ackermann…
You can tune in online tomorrow at 11:30 Eastern to see our friend Jenna's new show! Lots of videos from great bands, with a live performance and interview from A Place to Bury Strangers. Keep your eyes peeled for the Prids video ;)
Mistina DJs the
Echo and the Bunnymen
after party tonight at Lola's Room (below the
Crystal Ballroom
) with Will Sergeant! 11pm, FREE!
We have all our albums up on bandcamp! ♥
Love Zero, by The Prids
10 track album
The Prids - "I'll Wait"
The Prids "I'll Wait" Chronosynclastic Velvet Blue Music Director: Brendan Gill
We have 8 new songs. Here's an exclusive track we did for Cassingle and Loving It last year.
I'm Sorry, by The Prids
from the album FRIENDS AND ACQUAINTANCES
Contact
The Prids video for Contact
Lots going on as we reform the band (we haven't disappeared don't worry-- we're too stubborn), but we thought this new release we've been included on was worth mentioning:
Let it Go, from our album ...Until the World is Beautiful is included on The Lovecraft Bar's new compilation! Available on 180 gram translucent Cthulhu green wax! It includes a track by Mistina's other project We Miss the Earth as well. We will have it up in our online shop this week with a list of the other bands that are included. If you're local, stop by The Lovecraft and grab a copy.
David's new project
Leading Psychics
released their first ep today! Digital only, and only $4!
Reconnoiter, by Leading Psychics
4 track album
Check out Mistina's other project
We Miss the Earth
, they just released a new ep and they're playing a free show this Saturday at The Lovecraft Bar.
Our buddies in
Daydream Machine
are releasing an album tonight, go support them! ♥
Tonight October - The Prids
Final public version? Music Video for the Prids song Tonight October from the Album Chronosynclastic Costumes by Morgan Shanafelt Papercraft and clay by…
The show tonight was so fun! We'll miss you Maile. Love you.
It's important you come to tonight's show. We will be donating 100% of our proceeds to our good friend Kell's family, who have suffered a tragic loss. Below in the comments we will link to the site where you can also donate. Our deepest condolences for your loss, we love you Kell.
Our website is still down, but we promise the site and shop will be back up and running soon. This is our last show for a while, so please come out. You can get your merch there!
Mark your calendars!
Planning a September tour of Europe. Anyone who can assist with shows or recommendations please get in touch. Thanks!
We're playing
Lovecraft Bar
's 3 year anniversary tomorrow! It's FREE!